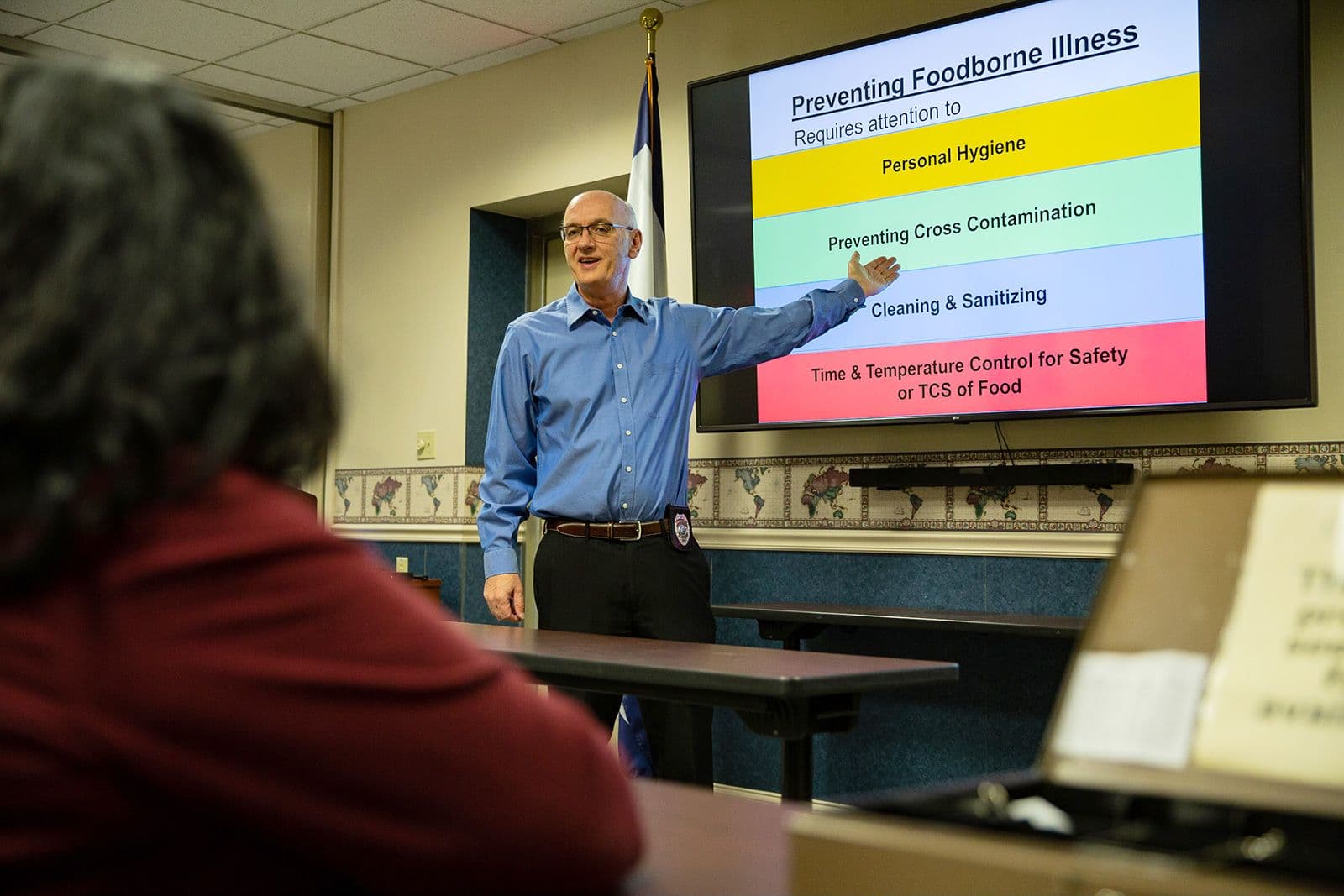 Monongalia County Health Department offers three levels of food safety training: food manager certification, person-in-charge training and food worker training.
Download the 2023 Food Safety Training Schedule
Food worker training
Food worker training is required for all persons involved in preparing, storing or handling food in restaurants and other facilities offering food for sale to the public.
Class length is about 45 minutes. Registration begins 30 minutes prior to class. It's best to arrive early because seating and parking can be limited. A photo ID is required for registration.
The training costs $10 per year. Cards expiring in one, two ($20) or three years ($30) are available.
Online food worker training
MCHD is pleased to offer online food worker training provided by StateFoodSafety.com. The course costs $20. It takes about two hours to complete and you must pass a test at the end.
StateFoodSafety is the only online food service worker course we accept.  Please be sure to take the Monongalia County course.
Course registration will ask for the name and address of the facility or volunteer organization you work for, so it will be helpful to have that information available before you start. If you are not employed or not volunteering, please put N/A in those fields.
We now have three options for the Online Food Worker Training Course. Click on a link below to take the course that best suits your needs:
Off-site food worker training

Many employers and organizations ensure their workers comply with training requirements by sponsoring an onsite food worker course. MCHD is pleased to offer this service for groups of 20 or more.
The cost is typically $200 plus card fees. Please contact 304-943-7773 to schedule a course.

Temporary food worker training

We offer temporary food worker cards every weekday (except for holidays) from 9-11 a.m. and 2-3 p.m. Candidates must study informational sheets (available below) and then complete a 10-question worksheet.
Temporary cards cost $1 for each week issued. All cards expire the day of the next scheduled food workers class. Temporary card holders are expected to attend that class.
Online person-in-charge training
Monongalia County Health Department's online PIC training is available with a course fee of $65. You will have 30 days to complete the course once you create your account. It takes about four hours from start to finish and you must pass a test at the end. Please have the name and address of your food service facility available for the registration and completion process. You may read about the course, watch a preview video and take the course here.
Food manager certification
The 2013 Food Code requires all food establishments to have at least one management level employee who is certified in food protection by passing an American National Standards Institute (ANSI)-accredited exam. Our Food Manager Training Course will help to prepare you to meet this requirement.
At the end of the course, we will proctor the National Registry of Food Safety Professionals CFPM exam. A score of at least 75% is required for certification.
The course costs $150 per person; this includes the exam fee. It is day and half in length, meeting from 8:30 a.m.-4 p.m. the first day. The second day from 8:30 a.m.-noon.
Individuals who are not fluent in English are encouraged to bring a translator. The exam itself is available in several languages.
Pre-registration with payment is required at least 21 days prior to the class. You must provide a photo ID prior to taking the test.
A three-year food worker card will be issued to all class attendees.
Certified food manager exam
Well-qualified candidates can take the National Registry of Food Safety Professionals CFPM exam without the course. A score of at least 75% is required for certification.
The exam-only option is $100; an optional study manual can be purchased at any time prior to the test for $25.
You must pre-register with payment no later than 21 days prior to the test date.
For testing purposes, arrive at 8:30 a.m. You must provide a photo ID prior to taking the test.  Onsite registration begins 30 minutes before testing times.
To pre-register, use the Manager's Class Registration form and select the Exam-Only option.